WELCOME TO SWEET CATCH EXCURSIONS
ABOUT US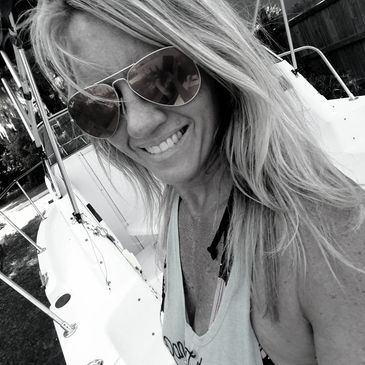 YOUR CAPTAIN
Lana Houlihan- I have decades of boating and fishing experience and have lived in the Honey Island Swamp for over 17 years. I am also a registered nurse and have worked in the New Orleans region for over 15 years.  I recently obtained a US Coast Guard Merchant Mariners  License to pursue my dreams.  My inspiration comes from my desire to influence women alike to explore the outdoors and embrace one another to overcome obstacles, fears and stereotypes. 
SOUTH BAY 525E
Who says you have to skimp on comfort and luxury for performance!  There's nothing quite like the comfort of a South Bay 25 foot tritoon equipped with a 200 HP Yamaha. When your're not reeling in a big red fish, you can lay back and relax on one of 3 lounges or have a seat at the bar with a cocktail. Sweet Catch is equipped with ample counter and floor space, a nice stereo system, a faucet and sink and a portable potty.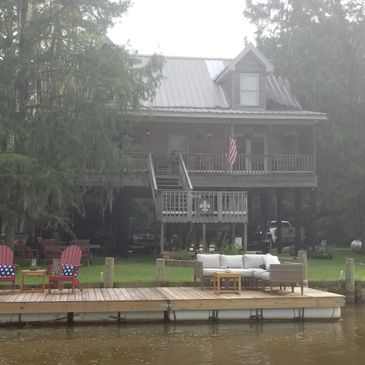 OUR LOCATION
43647 Camp Rd. Slidell, La
We are located about 25 miles east of New Orleans in the quaint city of Slidell. Slidell is known for its rich culture. and friendly residents. 
We are currently working on transportation.  Please call or e-mail should you need travel accommodations.
SWEET CATCH EXCURSIONS! FOR REEL WOMEN!
Sweet Catch Excursions was designed by women, for women! We cater to those passionate about embracing the outdoors in comfort and style! Grab your family and friends and hop on!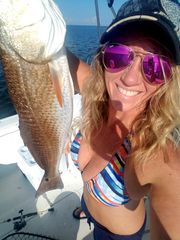 Sit back and cast! Nothing compares to the adventure of reeling in a fish!  The West Pearl River and surrounding lakes are an ideal location to bait fresh water cat fish, red fish, trout, drum, sheep head and  flounder. It's the thrill of a life time that you wouldn't want to miss!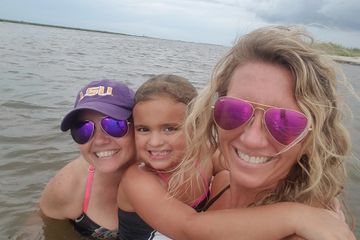 Don't underestimate the excitement of an ALL girls trip! This is exactly what we're geared for! Grab your ice chest and your friends. We'll turn up the radio and get the party started! Local hot spots with live music are  just a short boat ride away.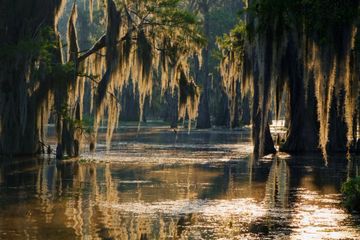 PLEASURE CRUISE & SWAMP TOUR 4 HR
Kick back and relax as we coast through the Honey Island Swamp and surrounding region. Our rare ecosystem allows you the opportunity to see an array of wildlife including alligators, egrets, and raccoons in an up close and relaxing environment.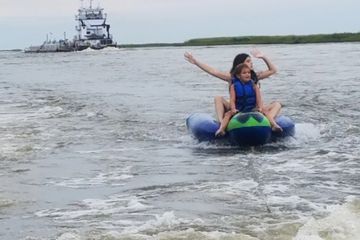 BOAT TUBING 4 OR 8 HR TRIP
Hold on tight! There's nothing like the thrill and excitement of flying through the water on an inflatable tube. If you want an epic adventure, this is for you!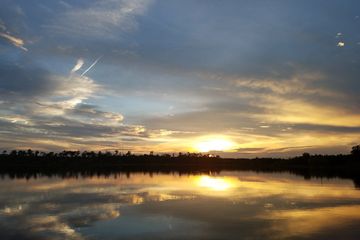 The serenity and grace of the sun as it makes its last debut is breathtaking. Bring your favorite bottle of wine and we'll take care of the rest. This romantic and surreal experience is highly  recommended for couples and those that love the panoramic views you get from the deck of a boat.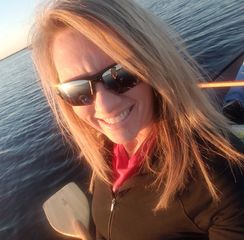 KAYAK & CANOE RENTALS 3 HR
Want some time alone? Kayak or Canoe in the relaxing and scenic White Kitchen Preserve. Cypress trees draped in Spanish moss, alligators, turtles and an array of exotic birds are on the top of the list.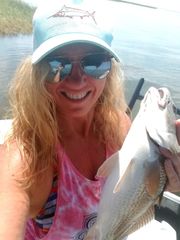 THE BEAUTY OF IT ALL! 8 HR TRIP
We cater to you and your expectations! Our excursions are designed to include multiple adventures. You want to fish,  tube, see the swamp ,and the sun set? No problem! Our goal is to assure your safety and that you leave with a smile on your face! That's the beauty of it all!
Disclosure: Excursions are subject to cancellation at the captain's discretion due to inclement weather and unforeseen circumstances. Rescheduling or Refunds will be offered should this occur.
BOOK YOUR EXCURSION!
FISHING EXCURSION- 5-6 ANGLERS
8 hr|$725
THE BEAUTY OF IT ALL
8 hr|$750
FISHING EXCURSION- 1-4 ANGLERS
8 hr|$525
PLEASURE CRUISE & SWAMP TOUR
4 hr|$425
TUBING- FULL DAY
8 hr|$600
TUBING- HALF DAY
4 hr|$425
KAYAK RENTAL-SINGLE
3 hr|$30
KAYAK RENTAL- DOUBLE
3 hr|$60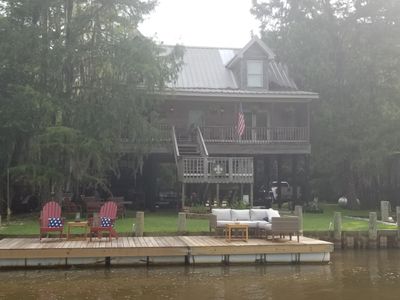 OUR GOAL IS TO PLEASE
We are a newly developing company with aspirations in mind.  If you are requesting a service or time frame that is not available on-line, please call or email. We will try to accommodate you and your party.  
BOOKING A TRIP
On-line bookings can be made 7 days in advance. If you are attempting to book within 7 days please call for availability.
WAIVERS
A waiver must be signed prior to all excursions and rentals. 
BOAT LIMITATIONS
The Sweet Catch can comfortably accommodate 13 guests, but my license will only allow me to take out 6 paying guests at a time. Spread out and enjoy the extra room!
ITS NOT JUST FOR WOMEN
Although Sweet Catch Excursions was designed with women in mind, we are thrilled to accommodate women, men and children alike.  
DRINKING!
Cheers! Drinking is allowed for those of age, however, drink at your own risk. Yes, I'm a nurse but when I'm on the boat, I'm the captain!
FISHING TEAM
If you're interested in joining the  Sweet Catch Fishing Team, send us an email. 
SUBSCRIBE
Sign up to hear from us about specials, sales, and events.
Sweet Catch Excursions LLC
Sweet Catch Excursions LLC 43647 Camp Rd Slidell, LA 70461 US
Copyright © 2020 Sweet Catch Excursions LLC – All Rights Reserved.